One of the hottest topics of conversation in Dana Point and the surrounding coastal cities is what is going on with the Dana Point Harbor Revitalization Project. We've done our research and are ready to share with you what we know! Here's the inside scoop on what to expect at the Dana Point Harbor.
The Dana Point Harbor is a cornerstone of the city. Harbor tenants are beloved go-tos for morning coffees and celebratory dinners, and the marina itself serves as a gathering place for the community. Home to the Festival of Whales, the Turkey Trot, and holiday boat parades, Dana Point simply would not be Dana Point without the harbor. Built 50 years ago, the Dana Point Harbor houses 2,400 boats of various sizes while still retaining the beauty of the bay. As the city continues to change with the times, the County of Orange and Dana Point partners have big plans for the future of the marina.
After two decades of talk, the Dana Point Harbor revitalization project was approved this summer. The project will completely transform Dana Point Bay with upgraded docks, public spaces, and coveted retail locations, paving the way for modernized city culture. A few businesses have already closed shop and current tenants are excited about the marina's upgrade. Amongst all the buzz about new business, boat slip availability, and timelines for construction, it's hard to know what to believe. We've done our research and are ready to share with you what we know! Here's the inside scoop on what to expect at Dana Point Harbor.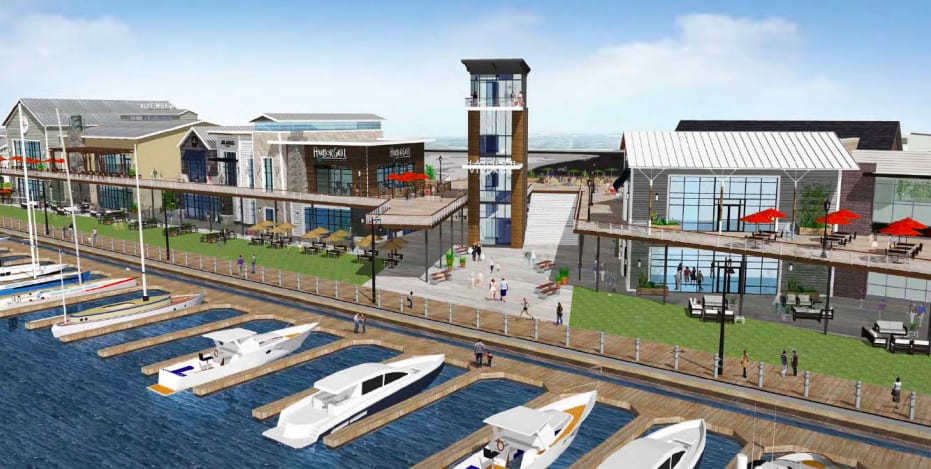 The Agreement
The Dana Point Harbor revitalization project is made possible through a partnership with the investor committee, the Dana Point Harbor Partners. Partners entered into a 66-year lease signed on July 30, 2022, initiating the $400 million project. This public-private partnership allows for the County of Orange to maintain ownership over the harbor but frees up some governmental barriers for budget and construction.
Through this partnership, the private sector team assumes the risk that comes along with reconstruction and also provides project funding so no tax dollars are used in the upgrade. The recently signed contract outlines a five to seven-year construction plan that is expected to be completed in late 2028.
The lease includes 40,000 sq. feet of restaurant space, 46,000 sq. feet of retail, and 825 public parking spaces. By the time the new harbor is finished, you will be able to visit a two-story shopping and dining facility, a historical center, fully rebuilt docks, an indoor storage space housing 400 boats, eight open-air lawns, two hotels and a pedestrian walkway stretching from Doheny Beach to the Ocean Institute. The vision of these updates is to create a refreshing meeting place for residents and visitors that will enhance community, support businesses, and pay tribute to the history of the harbor.
New at Sea:
Development has already started in the marina. New updates will include renovated docks to improve the safety and functionality of the space and boat slips for larger vessels. This project is projected to cost $100 million out of the $400 million budget and will be completed on a five-year timeline.
Bellwether Financial Group, a Newport Beach-based marina developer, has been selected to launch this project under conditions that will benefit the community and protect marine life in Dana Point. Joe Ueberroth, president of Bellwether Financial Group, agreed to an environmental justice program with OC Youth Sailing and the YMCA providing water education to kids who otherwise would not have access to such activities. The agreement also has initiatives to protect the harbor sea lions while the construction is underway. One way the Bellwether group is meeting guidelines is by building new docks with fiberglass rather than treated lumber that could leach into the water. As another way to decrease the ecological footprint of harbor construction, docks are being built in Dixon, California where sustainable methods for construction are more accessible. Finished docks will be transported down to Dana Point and sections of the harbor will be replaced in a 17-phase plan, decreasing the number of boats that need to be displaced at one time.
Demolition of old docks between Baby Beach and the Island Way bridge has already taken place. The Bellwether Financial Group has pulled fingers from Section C of the Dock in the harbor's west basin. Portions of the marina will continue to be replaced until all 2,400 slips are renewed. Dock construction will take place primarily on Monday through Friday from 7 a.m.-5 p.m, with some work to be done on Saturdays as well.
The waiting list for boat slips remains on a first come first serve basis organized by slip size. Dana Point Harbor Partners stated that they will seek to accommodate all current tenants in its redeveloped marina. If any current tenants are displaced in the redevelopment process, that tenant will be placed on waitlist priority. Costs for slips are still being determined.
New on the Shore:
The vision for the new harbor is to replicate the timeless and eclectic charm of Dana Point. Vintage street lanterns and native-inspired landscaping will work to enhance the natural beauty of the area. Eight lawn areas will encourage visitors to spend time outside and overlooking the water. These spaces will be used as meeting places for friends, provide al fresco dining, and serve as a venue for public and private events. Think yoga on the lawn, outdoor movies and concerts, and farmer's markets!
The revitalized harbor also has plans for a repaved walkway providing pedestrian access from Doheny Beach to the Ocean Institute. The Dana Point Harbor Partners hinted that there will be "breadcrumbs" dropped, guiding visitors all over the harbor.
As for retail, an upcoming highlight is the lined-up tenant Quicksilver by the Boardriders. Unlike basic surf shops, this storefront will offer more than just swimsuits. Complete with a coffee bar, surfboard shaping studio, and heritage museum, this new space is designed to pay tribute to the Dana Point surf culture. The museum will educate visitors on surfing legends who made Dana Point what it is today and highlight modern-day boardriders as well. It is also rumored that Mastros, a fine-dining favorite in Newport, will be one of the new occupying tenants as well.
Two new hotels will complete the revitalization project, encouraging visitors to come to this OC icon. Plans for a boutique hotel and affordable accommodations are breaking ground to provide harbor access to a wide range of travelers. A quality select hotel will be built first with partial marina views and easy access to docks. Construction is set to start in March of 2023. The boutique hotel will host approximately 130 rooms, some with water-front balconies! Equipped with full-service amenities like valet parking, rooftop lounges, a tranquil spa, covered boat parking, and pool cabanas, this hotel will be a coveted destination for Dana Point visitors. Built right by the boardwalk for the best views, construction for this hotel is intended to begin in March 2025.
The Bottom Line:
We love Dana Point and we are very excited about the future of the Dana Point Harbor and Marina. With upgrades to the harbor, it is likely that property values will increase as more visitors come to the area. It is difficult to predict how quickly we will see changes to the harbor but the future is bright. For now we'll continue enjoying the timeless charm of the marina. We will also keep you updated as we learn more about the process!
Project updates and timelines are available for viewing on OCparks.com.